Sarah Augilar
Jul 9th, 2021
I Tried Bamboo Clothing & Now I'm Hooked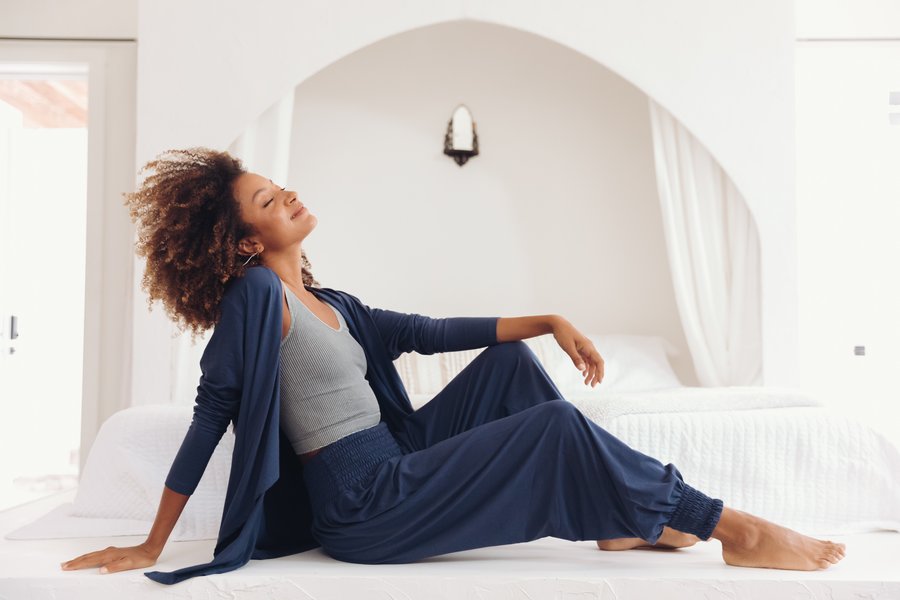 Shop Now
Wearing bamboo clothes is THE best feeling ever. I've had itchy fabrics, stinky garments and tickling clothes before, however, this is the most comfortable material I can think of for my sensitive skin!
After a week of being cooped up in my house because we were hit by a snowstorm, my decision to wear bamboo pants and a shirt without washing them started to make sense... So I wanted to try something...
I bought some bamboo clothing and then wore them for a week and now I'm completely hooked!
In today's world, fashion is a big deal to me. I love to wear good quality clothes that are also fashionable. Yet, at the same time, I'm not willing to spend all of my hard-earned money on clothes that I might wear out after a few months because of poor quality.
After researching bamboo clothing extensively, I learned it's supposed to be incredibly comfortable and easy to care for. So after seeing some on sale at Sivana, I decided to buy their organic bamboo taj pants and see if they lived up to their hype.
I was excited because these clothes were supposed to do everything from wick moisture away from my body to help me stay cool while also helping me stay warm in wintertime. They're supposed to be durable yet still look good, even after years of use. They're also supposed to be naturally wrinkle-free so that you don't have to waste time ironing them—and who has the time or desire for that? You can wash them and even dry them in a normal dryer without any issues…after all, bamboo is supposed to be one of the most durable fibers out there!
Why did I want to try bamboo clothing
I first learned about bamboo clothing a few years ago, when I saw a couple of articles about how much better bamboo was for the environment than cotton. This is true — bamboo is a sustainable plant that grows quickly, doesn't need pesticides or herbicides, and absorbs more carbon from the atmosphere than other plants.
The bamboo fiber used in clothing is also hypoallergenic, antibacterial, UV-resistant and naturally temperature-regulating. When I heard this, it seemed like such an obvious win — why hadn't I heard of this before?
Why You Should Wear Bamboo Clothing
Bamboo clothing has been around for awhile now, and it seems like more and more people are wearing it. I just LOVE the fit of the clothing and they are made with such quality and care. If you're interested, you can see everything they offer on their website.
I also love that every order gives back to a charitable cause which is pretty cool!
I definitely plan on buying more bamboo clothes from them in the future!
The bamboo fiber used in Sivana's clothing is also hypoallergenic, antibacterial, UV-resistant and naturally temperature-regulating.
My final thoughts...
After a week of living in my bamboo clothing, I'm completely hooked. It's one of the best products for my hectic, stressed out life. In a strange way, the clothing actually made me feel calm and more relaxed than usual. If you're anything like me, once you've experienced bamboo, you'll never want to go back.
Trying bamboo clothing for the first time is like having an awakening. :)
Shop the bamboo clothing I used for this experiment (Use my special code for 25% off: Ecotrends25)
Shop Now
Disclaimer:
*This page is an advertisement for Sivana and is not a news publication, and therefore the information on this page should not be taken as statement of fact. The information on this page is not intended to diagnose, treat, cure, or prevent any disease. Results may not be typical and results may vary. The story depicted in this advertisement is used solely for advertising purposes and should not be treated as real, factual news. The owner does not recommend or endorse any specific company. Terms, conditions and exclusions may apply.