Sarah Augilar
Jul 9th, 2021
I Wore Nothing But Bamboo Loungewear for A Week: Here's What Happened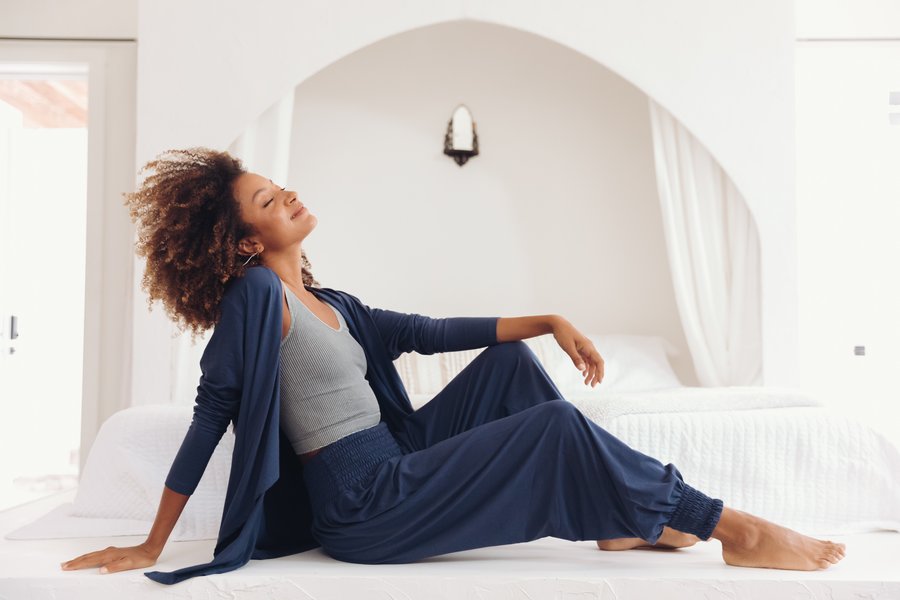 I'm using every muscle in my face to stay awake.
It's 2:00 am, my 8-week old is feeding, and I can't fall asleep holding her (even though that's all I want to do).
So - I go to the old standby... scrolling through Instagram...
I came across this article (OK - let's be honest, it was actually a meme) that said that Steve Jobs wore the same thing every day because making fewer decisions allowed him to be less tired and be smarter throughout the day.
Sounds like what I need.
So I decided to do a little experiment...
What if I dressed myself in the same clothing every day?
Here's what happened...
First, I recently bought some bamboo clothing from Sivana (literally the softest and coziest clothing ever)...
So - the first problem where I live is that weather is all over the place... all of the time... so I knew I needed something that was warm, but also cool.
That's why I loved the Bamboo 3/4 sleeve top from Sivana.
The Bamboo material made it perfect no matter what the temperature AND the bamboo fabric is hypoallergenic and antimicrobial. I've had issues since I was a girl with harsh synthetic fabrics feeling itchy against my skin. NOT WITH THIS :). Bamboo feels like butter against my skin.
After a few days, I actually became less stressed!
The whole idea with this experiment was to see if making fewer decisions ACTUALLY made me less tired and stressed.
This was extremely simple - yet it did exactly that.
It was more than just making fewer decisions though.
Because I made the decision up front and found the best possible product for the job, I actually started letting some of that pressure I constantly feel to be the perfect mom with perfect little kids go.
I was confident that I looked and felt good, and I had already made the decision.
For such a small thing, it was a really surprising burden off my shoulders.
Obviously I didn't wear only one single piece of for a entire week...
However, when you are only using one type of clothing it's easier to pick one, it's easier to do laundry, it's easier to fold and put away, it's easier to keep track of.
"Because I made the decision up front and found the Best possible product for the job I actually started letting some of that pressure I constantly feel to be the perfect mom with the perfect little kids go"
In conclusion the experiment worked.
It was shocking to me how much a really small way of simplifying my life - like only dressing myself in one thing made such a difference.
Again - I think it was, in large part, thanks to the Sivana Bamboo clothing I found. The breathable bamboo material and "OMG CUUUTE!!!" designs gave me the confidence to actually do this.
I highly recommend you give it a try! Just make sure you wear something cozy ;-)
Shop the bamboo clothing I used for this experiment:
Shop Now
Disclaimer:
*This page is an advertisement for Sivana and is not a news publication, and therefore the information on this page should not be taken as statement of fact. The information on this page is not intended to diagnose, treat, cure, or prevent any disease. Results may not be typical and results may vary. The story depicted in this advertisement is used solely for advertising purposes and should not be treated as real, factual news. The owner does not recommend or endorse any specific company. Terms, conditions and exclusions may apply.